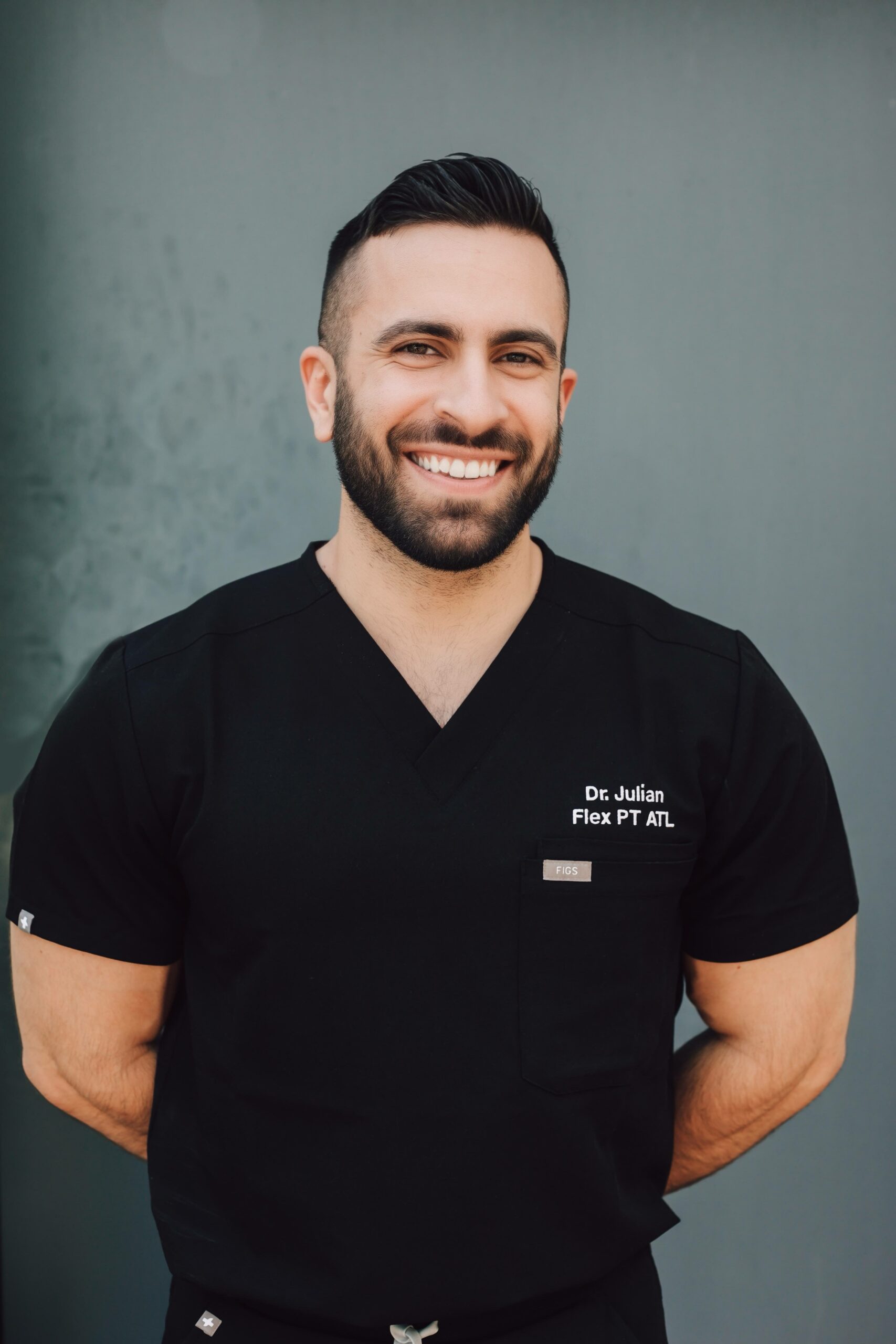 About Dr. Julian Colina, PT, DPT (he/him)
Dr. Julian Colina was born and raised in sunny Miami, Florida, and received his bachelor's degree in Applied Physiology and Kinesiology from the University of Florida (2018) before moving back to Miami and beginning a career in exercise physiology, where he would monitor the health and vitals of deconditioned or ill patients and work closely with physicians and physical therapists to ensure appropriate recovery and function for all his patients.
After two years of working as an exercise physiologist, Julian decided he wanted to broaden his knowledge of anatomy and physiology, as he felt that there were some aspects of care he wasn't equipped to handle. Realizing this, Julian decided to go back to school for Physical Therapy, and attended the University of Miami receiving his Doctorate of Physical Therapy in 2023, graduating with honors. 
Julian began his clinical interest in orthopedics, but quickly began exploring the field of pelvic health even during his education, and received over 60 hours of continuing education in addition to traditional education to specialize in the field of pelvic health. Throughout his academia journey, Julian also took an interest in the specialty of vestibular physical therapy and has given educational workshops on vestibular techniques in multiple physical therapy clinics in South Florida while still completing his Doctorate. Near the end of his schooling, he began giving educational workshops on pelvic health-related treatments as well, specifically within the trans population. 
Aside from Physical Therapy, Julian has four years of experience as an exercise physiologist, treating patients with various conditions such as high blood pressure, diabetes, chronic pain, heart arrhythmias, COPD, and Parkinson's Disease. These experiences gave him a thorough understanding of handling patients with multiple comorbidities from multiple backgrounds. Julian was also a personal trainer for a year focusing on weight loss as well as muscle gain, working typically with a young adult or middle-aged population. Lastly, Julian also used his knowledge of anatomy and exercise physiology to train and prepare for a Men's Classic Physique Bodybuilding show prior to moving out of Miami. 
Drawing experience from his time as a trainer and exercise physiologist, and his formal education in physical therapy, Julian is determined to offer highly individual and effective treatments for his patients.
What He Treats
Julian treats pelvic floor dysfunction such as pelvic pain, genital pain, urinary dysfunction, bowel dysfunction, sexual dysfunction, and pregnant/postpartum patients using a combination of manual therapies and techniques, thoughtful and individualized exercises/stretches, pain relieving techniques, and even the use of extracorporeal shockwave therapy. Besides pelvic floor dysfunction, Julian also treats orthopedic concerns such as low back pain, neck pain, shoulder pain, and ankle/foot pain. Lastly, Julian is versed in vestibular techniques for the treatment of vertigo and unsteadiness.
Julian saw early in his education that people with penises were underserved and underrecognized in the world of pelvic floor dysfunction and has since strived to raise awareness that people with penises have pelvic floors and are also able to have pelvic floor dysfunction, despite his initial interest in the pregnant/postpartum population. Similarly to Dr. Lance Frank, Julian is also a gay provider and strives to create a safe space in the clinic where anyone can feel comfortable seeking treatment.
Outside of the Clinic, You Can Find Him:
Baking! Julian loves baking a variety of sweets, but prefers making choux pastry (think churros, eclairs, and profiteroles. Those are all choux pastry!)

At the gym. Julian enjoys weightlifting and pushing his physical limits. While his current style of training is typical of bodybuilding, he has participated in powerlifting, crossfit, and soccer.

Playing video games. Julian has loved them since he was a kid!

Trying new restaurants or bars; who doesn't love food?

Playing or cuddling with his kitten, Olivia